Advocacy Communicator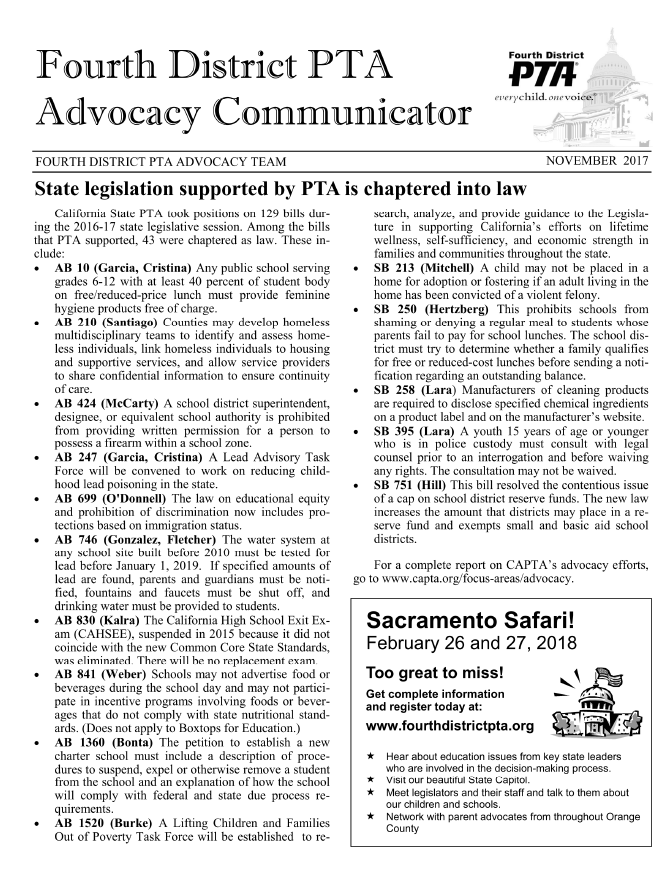 January's Communicator includes:
Advocating for children with your local school board
LCAP (Local Control Accountability Plan) involvement
What additional funds might mean for education in 2018
Sacramento Safari Information
Talking Points for Legislative Chairs January 2018
Issue
2016

 2016  EXTRA edition–2016 summary of new laws affecting children, families, and schools that you can share with your PTAs
2017
 December's Communicator includes:
Ron Bennett's CA education funding predictions for the 2018
A summary of how California funds our public education system
Previews the next Advocacy Forum on 

January 12

 with CAPTA President Dianna MacDonald and Lynn Miyamoto CAPTA VP of Family Engagement
In this edition, PTA supported CA legislation summarized, effects of poverty on children and a link to our new Legislative Agenda!
This issue highlights a new way to compare your school district's art curriculum with other schools through CreateCA. It includes legislation updates coming out of Sacramento and provides registration information for Sacramento Safari!
In this edition, we give you advocacy ideas you can use, and summarize the latest news on state and federal education budgets.
In this edition, we give you advocacy ideas you can use, and summarize the latest news on state and federal education budgets.
In this edition, we discuss the latest on charter schools, cover PTA positions on proposed legislation, and give you some tips on getting ready for next year.  Are you ready to advocate?
In this edition, PTA responds to the proposed federal budget and how it handles education issues.  For arts advocates, we offer Ed Code info to back you up.  And if you missed our recent Advocacy Forum panel of five OC Superintendents, we recap some of the highlights here – what an amazing group!
In this edition, learn what PTA had to say about the U.S. Secretary of Education appointment.  We also have updates for you on the new school accountability dashboard, money coming for school facilities, reasons to advocate for the arts, and info on the March 21st Advocacy Forum – a panel of five OC Superintendents.  Get the details here!
We cover a lot of material in this edition, including the latest on the state budget that reveals some surprising news about where money for schools and education is really going. We also have opportunities coming up for you to learn more about how your own school district will be measuring up and what superintendents have to say about it.  Read on!
In this issue, we explain how you can easily advocate for children with just a phone call or email. We also give you an outline with important dates for the new state legislative session. We invite you to our January 18th Advocacy Forum to learn about the state's new school accountability system. And we tell you about three exciting opportunities in advocacy. Don't miss this edition!
2016
In this edition, we introduce California's new school accountability system (it's replacing the API score). We also report election results, cover predictions for school funding next year, announce our January 18th Advocacy Forum, and continue to support voter registration for high school seniors.
In this edition, we recap some of the points covered during Ron Bennett's amazing presentation to PTA members at the October 28th Advocacy Forum.  Also, we explain why PTA is so political, and highlight several CAPTA-supported bills that were recently passed into law.
Parents should be actively involved in school policy and spending decisions, but often aren't aware of these opportunities to guide major decisions for their own schools. Learn more in our advocacy speakers recap.  Also: Sacramento Safari registration is now open, and our next Advocacy Forum is October 28!
Make a great start to your year in PTA advocacy!  Info on advocacy training workshops, program opportunities, and upcoming dates are all included.  Learn where PTA stands on upcoming ballot propositions and which resolutions were adopted by National PTA.
In this issue, we cover Governor Brown's May Revise of the proposed state budget; talk about how to set up a candidate forum if you have school board members up for election, list items that you'll want to include in your PTA budget next year, and more!"
In this issue, you'll learn about the serious teacher shortage that's hitting California schools and what might be done to address it; read highlights from April's Advocacy Forum; and get the scoop on three recent court cases that impact education.
In this issue, read about PTA-sponsored legislation designed to help parents support their children's education and become actively involved in their schools.   Also, learn how two Orange County PTAs won CAPTA awards for their local advocacy – ideas you can use for your own PTA!
In this issue, we offer a recap of our annual Fourth District PTA Sacramento Safari advocacy trip, announce the successful launch of our OC high school senior voter registration pilot, and discuss a report on how California's schools remain underfunded despite state budget increases.
February 2016
In this issue, we see that the governor's budget includes more money for education; examine court cases that deal with adequate school funding, teacher tenure issues and whether union dues might be optional; and learn how local school districts are meeting common challenges.
January 2016
This issue highlights federal funding increases for education and the new Every Student Succeeds Act; discusses teacher evaluation, tenure, and layoff issues; and features opportunities to participate in upcoming events that offer the latest news and valuable insights for PTA members interested in supporting our children, youth, and families.