Visits to our Local Representatives' Offices
Meeting with Assemblywoman Ling Ling Chang – December 7, 2015
3 Pointe Drive, Suite 313, Brea
Fourth District PTA representatives: Kim Anderson, Kathleen Fay and Gisela Meier
Also attending from Chang's Office: Tara Campbell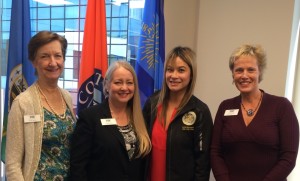 From left to right: Gisela Meier, Kathleen Fay, Assembly Member Ling Ling Chang, and Kim Anderson
Kim introduced attendees and talked about PTA's role in advocacy. She then talked about school facilities funding, the $9 billion bond that has qualified for the November 2016 ballot, and the possibility that the legislature will place a school facilities bond on the June ballot. Chang said she supports the idea of funding for facilities, but is not prepared to take a position on specific proposals until she has more information.
Gisela talked about the need for additional funding for schools. Chang said she is very enthusiastic about supporting public education. She is particularly interested in STEM/STEAM. She represents California as a STEMx Policy Fellow and recently attended a meeting with representatives from other states. [From her website: STEMx is a multi-state STEM network formed in 2012 by Battelle and STEM education leaders from 13 states. There are currently nineteen states and two territories in the STEMx network. The Network is comprised of educators, employers, policy-makers, and community leaders who work collaboratively and are devoted to supporting quality STEM education both in and out of school. ]
Kathleen talked about the teacher shortage. Chang said comprehensive reform is needed, particularly in the area of teacher evaluation. She mentioned "last hired first fired" policies as a particular problem. She would like to see the passage of a strong teacher evaluation bill. She is very eager to work on a bipartisan basis with other legislators to move bills forward.
She has had five bills signed by the governor.
She supports the idea of early childhood education but does not want to shift funding out of other education programs.
She serves as vice chair of the Assembly Rules Committee and wants to use that position to take politics out of the discussion and do what is best for kids.
She is interested in creating STEAM programs for kids who want to pursue tech jobs but don't want to go to college. Including the arts is important because of the design aspect of many jobs in technology.
She has introduced a resolution to designate April 5 -11th  as Women and Girls in STEM Week to encourage girls to enter these fields.
Meeting with Assemblyman Donald Wagner November 9, 2015
Report by: Jan Campbell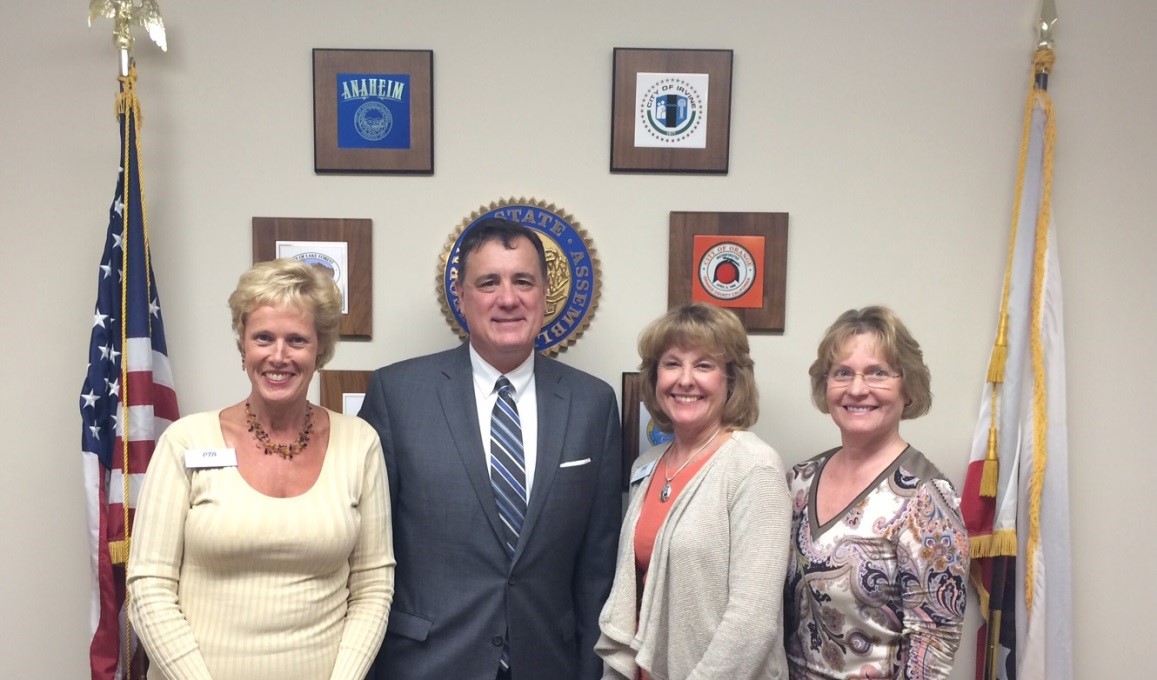 Attendees from left to right: Kim Anderson, Assembly Member Don Wagner, Jan Campbell and Suzanne Gauntlett
 We began by thanking Assemblyman Wagner for participating in the high school visits arranged in conjunction with our November Advocacy Forum (which he said he enjoyed tremendously) and gave him our Fourth District PTA Legislative Agenda.
Topics discussed:
School facilities funding – Kim outlined the need for a mechanism to provide for both modernization and new construction as prior bond money has run out. She discussed the fact that the governor vetoed the lawmakers Facilities Bond proposal, but now a $9 billion school bond initiative has qualified for the Nov. 2016 ballot. We also shared that discussions are currently taking place in the Capitol to determine whether agreement can be reached on the legislature putting a bond on the June 2016 ballot. We asked if he would support such a bond. Assembly Wagner responded that he has supported bonds in the past. He discussed the parameters of a water bond that he supported. He thought that $9 billion sounded like a big number and perhaps that should come down somewhat. However, he indicated that if there was a bond oversight committee that was making sure that the money was truly spent on facilities (not teacher's salaries and other expenses) then he would consider supporting it. We explained that by law bond funds can only pay for school construction projects and school facility furnishings and equipment. He discussed the need to find the proper way to allocate the funds and to whom. He indicated that there needs to be a way to assess where the greatest needs are, and that perhaps there should be some way of the districts determining, amongst themselves, what needs should get priority.
Achieving adequate school funding (San Diego study) – Kim outlined the findings of the San Diego Unified School District's year-long study to figure out what was important for kids to be successful, eliminate the achievement gap and how much that would cost. This study concluded that for San Diego Unified that was about $3,000 more per student than they are currently receiving under LCFF. If you multiply that out for the approximately 6 million kids in public K-12 schools, that would be about $18 billion more statewide in order to properly fund our schools. We touched on the fact that due to LCFF, districts each are receiving varying degrees of funding dependent upon their populations. Some are benefitting significantly from the new formula and others are still suffering. The idea of a menu of local funding mechanisms (parcel taxes, sales taxes etc.) was discussed. Although Assemblyman Wagner personally didn't seem vehemently opposed to this method of increasing education funding, he indicated that his constituency is generally very much opposed to any new taxes. He felt that this issue would need to be explored by each individual community and that other plans may need to be put in place for communities who cannot raise additional funding themselves to maintain some equity (Serrano vs. Priest).
Teacher shortage- Suzanne brought up the teacher shortage issue and the fact that it is going to do nothing but get worse with the number of teachers that will be retiring in the next few years. Assemblyman Wagner did not comment on this issue too much, but agreed that it could be lack of money, lack of job security, lack of respect for the profession and he also mentioned the need for proper teacher evaluations and the need for teachers to be empowered to do their jobs. He stated that we also need to provide a better roadmap for teachers and students to follow in understanding the new standards. We discussed that we are in transition with the new standards, and hopefully it will improve as everyone becomes for familiar with the new system
We concluded the meeting by asking Assemblyman Wagner what's on his radar for next legislative session. He responded that his Legislative Agenda is currently in progress and not finalized at this point. There will most likely be something regarding Transportation and he also indicated that he is open to our ideas. He stated that he is looking forward to seeing us in Sacramento at Sacramento Safari and that Suzanne can work with his scheduler in finalizing the appointment.
Meeting with Senator Bob Huff, Tuesday, November 12, 2013
District Office, Brea, CA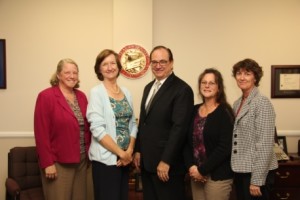 Met with Senator Bob Huff and David Monroy, District Representative
Fourth District PTA Attendees: Shereen Walter, Celia Jaffe, Gisela Meier and Vivian Moreno, Fullerton Council Legislative Chairman