Visits to our Local Legislators–2011-2012 Archives
Meeting with Assemblyman Tom Daly ,Wednesday, December 19, 2012
District Office, Anaheim, CA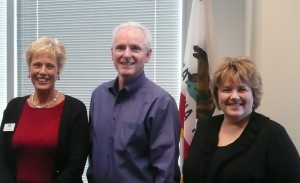 Met with A/M Tom Daly and Jessica Gutierrez, Senior Field Representative
Fourth District PTA Attendees: Kim Anderson and Chrystie Adams
 Kim opened the meeting by giving the new Assemblyman some background on Fourth District PTA. She mentioned that PTA would like to work with him on education issues and in turn we are able to help publicize any events he will be doing in his District having to do with education.
Kim went on to ask A/M Daly what his priorities will be for 2013. His response is that he sees positive trends already occurring and he does not want to stand in the way of that. He is interested in focusing on the State's economy and Prop 30 will help with that. A/M Daly think the Governor is doing a fantastic job and he will do everything he can to support him. Mr. Daly also considers himself to be a moderate/independent.
A/M Daly thinks the legislature should concentrate on going city-to-city and county-to-county and see what programs are working and what measures are being used to evaluate those programs. He is also interested in concentrating on the infrastructure of the state, with parks, roads, water systems and leadership.
He is also aware that there are big plans for water in the near future and he wants the Governor to succeed.
With regard to education, A/M Daly feels that the biggest impact on public education can be made through afterschool programs that can be funded by foundations, privately and by the State. He cited the example of the YMCA and the work they do in afterschool programs. He is not focused on getting involved with the administration of school districts on a micro-management level.
He noted that he has been involved in public office for 25 years at the local level. Most recently as the Orange County Clerk Recorder in a non-partisan, countywide, elected office with no term limits.  He liked the open primary process and was pleased to have bipartisan support in his run for office.
When asked about committees he is interested in, A/M Daly expressed an interest in chairing the committee on State agencies; he is interested in being on a budget sub-committee i.e. constitutional offices (not education), transportation, or parks.
With regard to the economy, A/M Daly feels that the federal government will find a solution to the fiscal cliff and the State of California should grow its private sector economy, have a reserve in the budget and restore cuts. He also said that the legislature needs to restore confidence in government.
In conclusion, Kim mentioned we would like to have a meeting with him during Sacramento Safari and he referred us to Krystal Moreno in his Sacramento office to set that up.
Meeting with Assemblywoman Sharon Quirk-Silva, Tuesday,
December 18, 2012
District Office, Fullerton, CA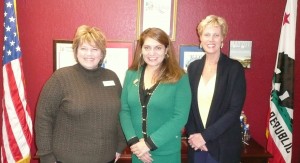 Met with A/W Sharon Quirk-Silva and Javiera Cartagena the A/M's District Director.
Fourth District PTA Attendees: Kim Anderson and Chrystie Adams
 Kim opened the meeting by giving the new Assemblywoman some background on PTA and an overview of PTA's involvement in Prop 38.
A/W Quirk-Silva gave us some background on her experiences. She said that four years ago as Mayor of Fullerton she met with the President of CSUF to address the "achievement gap" and they started an annual summit to discuss this issue. They promoted it by reaching out to businesses and families. This fall will be the 5th year of the summit and will be hosted by CSUF again with the help of Dr. Millie Garcia. Vital Link is the program at CSUF that does work on the achievement gap summit.
A/M Quirk-Silva noted that she hired a staffer that will be our contact person on education issues in her office and her name is Amy Ramos.
A/M Quirk-Silva noted that there are 5 higher education institutions in her District. They are: CSUF, Western Law, Hope University, Fullerton College and the College of Optometry.
She also noted that committees have not been assigned yet in Sacramento, but she hopes to be able to work on transportation, health and mental health services. Her interests are in transportation infrastructure (which will help put people back to work), implementing the Affordable Care Act in California, funding a year-round homeless /mental health shelter, and funding for public schools K-12. A/M Quirk-Silva stated an alarming statistic that in South Orange County there have been a rise in teen suicides and in public high schools there is 1 counselor for every 1,000 students.
A/M Quirk-Silva mentioned that she is a long time member of PTA, was previously a teacher and has met with Kathy Moffat and Donna Artukovic in the past. She would like to attend as well as participate in any Advocacy Roundtables, Fourth District meetings or PTA Council meetings.
She is interested in making sure education focuses on the well-rounded child with regard to the Arts. She noted that Fullerton Civic Light Opera raises funds every year for a recorder program for the elementary schools in Fullerton to have 2-10 week sessions of study.
A/M Quirk-Silva noted that in her initial briefings in Sacramento most of the legislators have been expressing a moderate school of thought on spending.
She noted that the most impact that could be made on restoring public school funding would be the elimination of furlough days and the reduction of class sizes. K-1 should be returned to 20:1 and there should be no more than 28 students per classroom in upper grades.
In conclusion, Kim mentioned we would like to have a meeting with her during Sacramento Safari and she referred us to Jayleen Romo who is her scheduler in Sacramento to set that up.
Meeting with Assemblyman Curt Hagman, Monday, December 10, 2012
District Office, Chino Hills, CA
Met with A/M Curt Hagman and Doug Boyd, Field Representative
Fourth District PTA Attendees: Kim Anderson, Gisela Meier and Chrystie Adams
2012-2013 Legislative Sessions
Discussed his thoughts on how the super majority of Democrats may change the current political climate in Sacramento.
A/M Hagman expressed his frustration with Prop 30. He said that schools were slated to receive a 7% increase next year if Prop 30 didn't pass. Now the press is saying that the Republican majority decided to cut education. He feels PTA is too intertwined with the CTA. A/M Hagman stated that teachers have received a 42% salary increase in the last 10 years due to strong union.
Kim asked about what he will be focusing on next year and he is excited about a huge technology agenda for education.
A/M Hagman would like PTA to be more involved in labor issues with PLAs (Plain Labor Agreements) and the State Allocation Board. He would like to see State PTA do a study where we compare and contrast all 50 states on education issues like minimum requirements, hours of education, teacher pay, etc. He also would like to see PTA be the "keeper of facts" i.e. a database resource for Assembly Members as they are evaluating bills on education. Gisela pointed out that PTA couldn't take a position without authority from its membership.
A/M Hagman said the top three things he would like PTA to study:

Database of facts from all different sources
Study of technology being used
Disseminate correct information i.e. per pupil spending figures

A/M Hagman directed us to a study that was done by UCLA and Berkley that we should look at as an example.
He also suggested that there might be a bi-partisan bond in 2014 and they are working on per student funding figures for that.
We asked if A/M Hagman would be available to meet with us in Sacramento on March 19th for 30 minutes and he said he'd be happy to.
Meeting with Assembly Member Allan Mansoor, November 27, 2012  
Assemblyman Allan Mansoor's District Office, Costa Mesa, CA
Met with A/M Allan Mansoor and David Taylor, Field Representative
Fourth District PTA Attendees: Kim Anderson, Gisela Meier, Nicola Weiss, and Chrystie Adams
Confirmed agenda and format for both the high school visits and the advocacy Round Table
2012-2013 Legislative Sessions
Last year A/M Mansoor worked on a bill to change the wording in State Code from "mentally retarded" to "mentally disabled".
Possible topics for this year-Pension Reform, Fixing Roads and Money for Education.
He has been working on a bill about "Residential Rehab Homes" in areas that are overly impacted. Current law states that addiction recovery homes that have 6 or less people are not regulated by the state. Facilities that have less than 6 people are not allowed by law to offer medical treatment but they are advertising that they do. Some facilities are purchasing multiple properties on the same street and housing less than 6 clients per house to get around the regulations and offer treatment. That is adversely impacting neighborhoods with increased medical and police response, drug paraphernalia and noise issues.
Gisela mentioned the new LAO report on the State Budget might bring some good news for education funding.
A/M Mansoor said we still need to be aware that even though there is good news, there will still be some deficit, outstanding debt obligations, pension liabilities and high speed rail concerns.
He is also concerned about Democrats creating permanent expansions with any surplus to the budget even though it is meant to be a temporary tax increase.
Another area of concern is water from the Delta and the need to refurbish that area. He said that water will become a big issue this year.
We asked a question about if there is a surplus can the priority be to pay back schools what they are owed and make them whole. The group got into a discussion about the debt that is owed to schools and A/M/ Mansoor asked for more information and for his staff to look into the details to see if there is a way to impact school funding by changing some aspects of Prop 98.
Kim mentioned that Weighted Student Formula would become an issue to consider with school funding.
Chrystie offered to contact the PTA Advocacy Team in Sacramento to get his some more information.
A/M Mansoor requested information on the following:

Reaching out to Sacramento Advocacy Groups to provide data on the decade between 1978 and 1988 to determine whether school funding was better off with the passage of Prop 13 and Prop 98. Conversely, what impact did Prop 13 and Prop 98 have on school funding?
Also, what impact would a stable tax system and a stable funding amount each year make on schools and school Districts.
He also asked if we could get feedback from school districts on the state budget and what would be a workable solution.

The education facilities bond of 2014 was also mentioned.
We asked if A/M Mansoor would be available to meet with us in Sacramento on March 19th for 30 minutes and he said to contact Calvin in his Sacramento office to set it up.
Meeting with Assembly Member Don Wagner, November 27, 2012   
Assemblyman Donald Wagner's District Office, Irvine, CA
Met with A/M Donald Wagner. Briefly spoke with Samuel Han, District Director
 Fourth District PTA Attendees-Kim Anderson and Chrystie Adams
Kim asked whether he thinks now that there is a Democratic super majority will that make a difference and will we see changes?
A/M Wagner said he is not sure and does not think we will see any major changes right away, but probably by mid 2013.
Kim asked what his focus will be for next year.
A/M Wagner said he is the Vice Chair for the Judiciary Committee and he is interested in working on the underfunded judicial system. He is also interested in business regulations and would be interested in reform bills and asking his constituents for smaller ideas to look at reform.
On the issue of Weighted Student Formula (WSF) he said there has been considerable pushback from CTA
When asked about Common Core, A/M/ Wagner said he is not involved with that issue even though he sits on the Education Committee and he is not sure if he will continue to be on it next year. He also mentioned that Joan Buchanan is now the Chair of the Assembly Education  committee (taking over from Julia Brownley who is termed out) and he thinks she will do a good job. OC schools will take a hit if WSF is enacted the way it is currently being proposed.
He also thinks the Water Bond of 2014 and transportation infrastructure will be big issues next year.
When Kim asked A/M Wagner about what he thinks will happen on teacher evaluations he commented, "Nothing probably, the CTA does not like them, they bankrolled Prop 30, defeated Prop 32 and the Democrats listen to the CTA. Since they are the majority they will likely not revisit it. He suggested that we should look for the video online of the "Anderson Cooper Report" on California Education Funding because he really nailed it on the head.
We had a lengthy discussion on the possibility of making repayment of schools a priority with any surplus in the State Budget after 2014. A/M Wagner said they have to be careful with that money and questioned us extensively on whether we felt that money would fix the problem or if reform was really the answer. Our response was that reform was definitely necessary, but money would go a long way to hiring back teachers to reduce class sizes to reasonable amounts and restore programs that have been lost over the last two decades.
In conclusion, Kim mentioned we would like to have a meeting with him during Sacramento Safari. He said he'd be happy to and referred us to his Capital staff to set that up.
Orange County Legislator Voting Record 2012
To see how your representatives voted on California State PTA supported bills this year, please click on the link below.
Orange County Voting Record 2012
Visits to our Local Representatives' Offices 2011-2012
Go to:
Assembly Member Allan Mansoor, 68th District – September 12, 2011 – 10:00 a.m.
Assembly Member Chris Norby, 72nd District – October 7, 2011 – 11:00 a.m.  
Assembly Member Diane Harkey, 73rd District – October 10, 2011 – 10 a.m.  
Assembly Member Curt Hagman, 60th District- November 9, 2011 – 11 a.m.
Senator Tom Harman, 35th District   -November 19, 2011 – 9:30 a.m.
Senator Mark Wyland (staff), 38th District – Decemeber 12, 2011 – 10:30 a.m.
Senator Lou Correa, 34th District – December 15, 2011 – 10 a.m. 
Meeting with Assembly Member Allan Mansoor, 68th District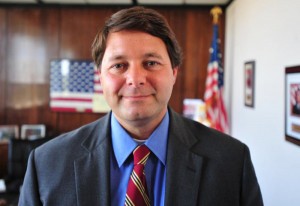 Attendees:
Assembly Member Allan Mansoor
David Taylor – Field Representative
Kim Anderson – Fourth District PTA
Nicola Weiss – Fourth District PTA
Report by: Nicola Weiss
Monday, September 12, 2011 – 10:00 am
The meeting began with introductions and the explanation of the PTA Structure, the children we represent in OC and what PTA is committed to.
We shared the details of our 4th District PTA Advocacy program. Assembly Member Mansoor requested that we include his office on our Leg Link distribution list.
He is willing to meet with us twice per year in his local office and also during Sac Safari.
Assembly Member Mansoor was very receptive to us calling his office when we care strongly about a bill and letting him know what our reasons are. He requested that we start an ongoing dialogue with David on the positions of PTA on bills.
Assembly Member Mansoor expressed that he strongly feels that education, fire, police and road conditions are a huge influence on our infra structure.  He feels that the need for a good education system is key to building the future of the state.  He expressed that he would like to see more local government control.
His biggest interest (and he was very vocal about this) is the overregulation in our state.  David stated that Sacramento has added 50,000 additional regulations on businesses over the past two years.  He feels that this is one of the reasons why businesses move out of California because it is no longer feasible for them to stay.  Additional regulations are being discussed right now in Sacramento.
His other top priority is pension reform.  He stated that the way our union pensions are funded in our State is not sustainable.  The funding stays at a high level no matter how the market is performing and it will only get worse.  No private sector can afford to pay the pensions the way unions are doing.  Playing into this for example is the 2 months paid vacation in the first year of employment for prison guards.  This was just increased under Governor Brown.  Now more prison guards need to be hired to cover the vacation, which means more jobs, however, it also means higher pensions.  The taxpayer is going to have to pick up this bill.
When asked about the budget, he understands that mid-year cuts to education would be devastating.  However he would like to hear from PTA what they would suggest to cut if not education.  He is hoping to have an open communication with us and hear from us on a regular basis with our thoughts.
We invited him to mark his calendar for Sacramento Safari and Nicola will do that in a follow up communication.

Meeting with Assembly Member Chris Norby, 72nd District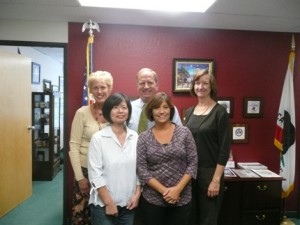 Attendees:
Kim Anderson – Fourth District PTA
Shihwa Yuan – Fourth District PTA
Assmebly Member Chris Norby
Bev Berryman – Fourth District PTA
Gisela Meier – Fourth  District PTA
Report by: Gisela Meier
Visit: October 7, 2011 – 11:00 a.m.
We invited him to mark his calendar for Sacramento Safari and Nicola will do that in a follow up communication
It was a lively meeting. Kim had to work hard at getting all the information from our agenda out on the table, as there was non-stop conversation.
Assembly Member Norby said he would be happy to be included on the LegLink list, along with Carolyn Kaiser, his field representative, and other staff members.
He is willing to meet with us twice a year in his local office as well as during Sacramento Safari. Danny is the person to schedule appointments with in his Sacramento office and Carolyn is the person for local office visits. Danny and Carolyn work together on the Norby's schedule.
Norby said the evening is a better time for OC legislators to meet with Sac Safari parents. He said most OC legislators stay in the capitol and would be happy to come to the Embassy Suites for a dinner event with us. (One idea mentioned was having questions ready for legislators to pull out and answer. Seat legislators with their constituents, and one A-Team member.)
In response to the question, "If there's one thing you could do for education, what would it be?" Norby said he would create more local authority, less categorical funding. Local boards should have authority regarding credentialing, staffing and other issues.
Norby spent quite some time going over the list of bills supported by PTA and how OC legislators voted on them. (He voted yes on two.) He said he voted no on six bullying bills because he believes they are "overkill" and that local school districts should handle the problem. When the state passes new laws, local boards have to figure out how to deal with them. Often this involves staff training that is a waste of time. "There is a sub-industry that makes a lot of money off this stuff."
As a former high school history teacher, Norby had a lot to say about SB48, which requires schools to teach LGBT history. "Why should we try after the fact to figure out if some of these historical figures were LGBT?" He said he always votes against mandatory curriculum inclusions because they are a nuisance at best and at worst can result in lawsuits if certain information is not presented in the classroom. He also does not support the establishment of honorary days or months (e.g. Foster Care Month) because these don't accomplish anything.
His overall comment regarding the bills is that CAPTA is "more liberal than Orange County."
His office and Senator Bob Huff's office are planning an education summit/forum in March. They will keep Fourth District PTA informed, or perhaps include us in the plans.

Meeting with Assembly Member Diane Harkey, 73rd District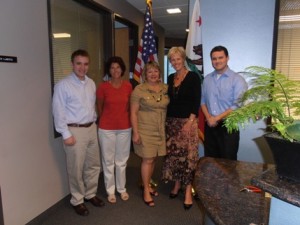 Attendees:
Gino Folchi, Communications Director
Lori Abbott – Fourth  District PTA
Jody Vaughn, District Director
Kim Anderson – Fourth District PTA
Steven LaMotte, District Representative
Report by: Lori Abbott
Visit: October 10, 2011 – 10a.m.
Assembly Member Harkey was unavailable, so we met with her district director and two members of her district office staff. We all provided brief introductions and Kim described the structure of Fourth District PTA. They seemed impressed with the statistic of 140,000 PTA members and a half million children that we represent.
We described in more detail the Fourth District PTA Advocacy program and gave them the Legislator leave-behind and the two most recent Advocacy Communicators. We informed them of the Sacramento Safari trip in March and asked them to please make Assembly Harkey available, if at all possible, on the afternoon of March 27 for a half-hour advocacy session with about 10 Fourth District advocates. Kim asked for their opinion on Assembly Member Norby's suggestion that all the OC Assembly Members and Senators be invited to the dinner on the evening of March 26, and they felt Assembly Member Harkey would be open to that idea. We also informed them of the Speaker's Bureau service our advocacy team provides, and asked them to let us know if they hear of school PTAs looking for help on advocacy issues. They were interested in being added to our email distribution list.
They were happy to meet with us twice a year in this local office and again in Sacramento whenever possible. Jody Vaughn would be the contact person in the local office and Katie Phillips in the Sacramento office. If we are interested in informing the Assembly Member on how we would like her to vote on a bill when PTA is taking a strong stand, it would be best to contact Sharon and Andrew in the Sacramento office by email. We told them we would send Assembly Member Harkey an envelope so that she can join PTA.
They would be thrilled if we would post the dates of local community events she is holding. She has quite a few coming up over the next month or so. They made it clear that constituents can attend any event, not just the one that is scheduled in their home area. We reminded them that our Fourth District PTA Advocacy team is a resource for them on children's issues and bills and we would be happy to clarify the PTA position on any of those bills.
We expressed our concern over mid-year budget cuts and their devastating effect to schools and asked them to urge Assembly Member Harkey to vote against any budget which would include mid-year cuts. Gino Folchi asked us about the fact that since Prop 98 takes up 40% of the budget, what were our (PTA) priorities? He also enquired about PTA's relationship with CTA. This led to an interesting discussion and an "education" for them. We told them how PTA's interest is in the "whole child", whether it be education funding, health and safety issues etc. and that we are the only organization with the child's best interest purely at heart. We also informed them that PTA must have authority (based on convention resolutions, legislation platforms, policies and position statements) in order to take a position and advocate for it. This is a discussion which should take place with each Legislator we visit.
We asked Jody to check with Assembly Member Harkey about her interest in visiting with government students at Dana Hills HS with Rick Simpson on December 8, and Jody said she would get back to us. Jody also spoke about the Assembly Member's desire to distribute Safety Informational booklets to parents and students at schools and gave us a sample.
Meeting with Assembly Member Curt Hagman, 60th District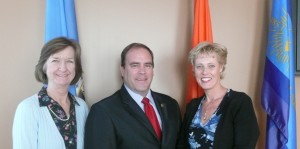 Attendees:
Assembly Member Curt Hagman
Kim Anderson – Fourth District PTA
Gisela Meier – Fourth District PTA
Report by: Gisela Meier
Visit: November 9, 2011 – 11:00 a.m.
We had a lively 45-minute discussion that could have gone on a lot longer as A/M Hagman had a lot to share. Although he does not sit on the education committee, he is very interested in public education. Both of his children attend public schools (fifth grade son and a high school daughter) and he serves on a PTA board.
The Assembly Member has an idea about giving some property to the UCs that he serves and has been meeting with Governor Brown about that.
A/M Hagman said that he has good working relationships with both parties in Sacramento, and that he often reaches out across the aisle in order to get things accomplished.
Some of A/M Hagman's comments on education:
Polls indicate that people will not support any kind of a tax increase, at least partly because they don't trust politicians in Sacramento. So it is more important to work for business growth.
A 30-year review of education funding shows that California now spends double, in real dollars, from what it spent 30 years ago. The problem is that only 70% or less of that makes it down to school districts. Money is not the problem. The whole system needs to be changed. (We are researching these numbers).
In our current system we reward failure rather than success: the failing districts are the ones that get the extra funding.
Regarding education and the state government in general, both Democrats and Republicans are controlled by too many powerful interest groups.
School districts should have been saving money all along to pay for building repairs that they knew they would need eventually.
In California, we think we have the best educational system, but we actually have one of the worst. We should look around at other more successful systems and learn from them. His two examples: New Zealand and New Orleans (after Katrina). Competition among schools leads to more success. In New Orleans teachers are happier and making more money under the new system.
The most respected voice in Sacramento regarding children is PTA. However, too often PTA seems to be in lock-step with CTA. His example was the constant lobbying for more funding. He thinks PTA should look for other solutions.
County departments of education are unnecessary and should be eliminated.
Hagman said he would love to meet with our group in Sacramento and that he is open to working with us on specific legislation. He gave us his personal cell phone number and email address.

Meeting with Senator Tom Harman
Attendees:
Gisela Meier
Nicola Weiss
Senator Tom Harman
 Kim Anderson
Friday, November 18th – 9:30 a.m.
Report by: Nicola Weiss
The meeting started out with friendly introduction and the sharing of his family involvement in education.  Sen. Harman shared that both his daughter and son-in-law are teachers. Mr. Harman expressed interest in learning what the PTA stood for and how we felt educational funding was short.
He shared his thoughts on the budget and additional cuts likely coming to education.  He stated that since education is receiving so much of the state budget that it was very certain that we would get additional cuts.  He wanted to know what we would do to avoid the additional cuts to education.  When he learned that we were going to start collecting signatures for the initiative that PTA is involved with (Advancement Project), he seemed surprised to learn that we had the manpower to do so.
He feels strongly that education has a big enough piece of the pie of the budget and was very interested to involve more local businesses to fund education.  He feels that our students are still performing well so that additional funding was clearly not needed.
Senator Harman wanted to find out how we were planning on approaching local businesses and what steps we were planning on taking to accomplish our goal of corporations supporting us in a non financial way but to support us based on how we can work together towards a mutual goal.  He felt that local businesses should be expected to pick up the slack and to support their communities that way. Gisela explained that our goal would be to have businesses stand alongside PTA when meeting with our legislators to demand that the state provide adequate funding for education.
When Kim invited him to meet with us in Sacramento and to join us for dinner in March 2012, he stated that he was very busy in the evenings and that his schedule would not permit him to do that.  He agreed to meet with our delegates (his constituents) during Sacramento Safari and asked us to work with his staff inSacramentoto set up our meeting with him.
He was very interested to find out what our relationship was with CTA. He seemed a little surprised when Kim explained that PTA ALWAYS does what's best for kids; that we have a thorough process of taking positions on issues and bills; that we act independently of CTA in lots of cases; that PTA is part of the Education Coalition because that way we have a seat at the table and can ensure that kids interests are well represented and that nothing can be done in the Ed Coalition's name unless ALL parties agree.  Kim also shared that our entire organization is almost completely volunteer (with the exception of a few paid staff in Sacramento) including our State PTA President, our Director of Legislation and the entire Legislation Team, which  consists of eight advocates – that spend hours analyzing bills and advocating for PTA's position – and three consultants.
At this point the Senator decided the meeting was over and asked for any closing comments.

Meeting with Heather Baez, District Representative to Senator Mark Wyland
Kim Anderson
Lori Abbott
Leslie Parker, CUC PTSA Legislative Co-chair
Sue Hill, CUC PTSA Legislative Co-chair
Monday December 12, 2011 at 10:30 a.m.
Report by: Leslie Parker
On Monday December 12, 2011 we met with Senator Mark Wyland's District Representative Heather Baez.   Due to the absence of Senator Wyland, our visit was mostly an outreach opportunity.
Kim Anderson introduced each of us, and explained our role with PTA.  Kim told Ms. Baez that the PTA's 4th District Legislative Team is taking a bigger role in legislative activity this year and visiting legislators in the wholeOrangeCountyarea as well asSacramento.   Since she and Lori Abbott have moved from heading the team in Capistrano Unified Council of PTA they will be doing the same kind of work that was done by the CUCPTSA Legislative Team but on a larger scale.
Kim gave her the new 4th District Legislative Agenda and the Advocacy Communicator and Lori Abbott encouraged her to subscribe.  We explained the Advocacy Roundtable we just held; featuringRick Simpson and Assemblyman Don Wagner, and that we will have more in the future.
Ms. Baez was not familiar with the structure of the PTA so we explained the hierarchy of levels.  We also informed her that all members of the PTA are volunteers – that none of us are paid for all the work we do, including the advocates in the California State PTA.  She was surprised to hear that information.
Ms. Baez was aware of the PTA supported education funding initiative, Our Children, Our Future  –  Kim explained that the PTA is in "full campaign mode" and that this initiative is very important to our organization.
We told Ms. Baez that we would like to meet with Senator Wyland twice a year locally (again later in spring) and then in March inSacramentowhen we come for our Sacramento Safari.  We gave her the date of March 27, 2012 to put on the Senator's calendar.
The subject of the impending trigger cuts was discussed.  Ms. Baez said she was aware that K-12, Cal Optima, the UCs andCalStateswere all preparing for being cut.  We discussed the possibility that Gov. Brown will pull triggers to create a climate favorable to his initiative.
Ms. Baez told us she has a child who attends a local public school and she is impressed with his teacher and the work he's doing.  She is not yet a member of PTA but promised to join.  We pointed out that all the great programs that her child's school has are most likely paid for by the PTA since the State and District budgets don't cover any extras anymore.  She did acknowledge that schools did not appear to have nearly the same programs and services as when she was in school.  She is aware of the changes in services available at schools compared with when she was in school and we explained that the point of the initiative is to get all those things back.  We also explained that any salary-related funds would be used to reinstate positions that were lost (i.e.: nurses, counselors, librarians etc) and could not be used for teacher raises or benefits.
She also mentioned the amount of money and classroom supplies she was invited to voluntarily contribute surprised her; she assumed these things were provided by the school district.  We suggested that if you add up all the money collected by "fundraising" at the schools, the tax initiative could possibly be less, but parents don't seem to realize this.  She was persuaded to look at it further.
We showed her the voting record we compiled showing Senator Wyland's votes on PTA supported bills and acknowledged that he votes more in line with State PTA positions than some OC legislators, which we thanked her for. Ms. Baez said the Senator has staff with K-12 kids so it gives him a better perspective.
We asked what we could do to help the Senator and she shared that she would let us know if anything comes up.
Finally we stressed that the PTA is an organization dedicated to children not teachers.  Ms. Baez seemed aware that the PTA and CTA are not the same group and aren't always aligned…as in the competing initiatives.
 Meeting with 34th District Senator Lou Correa
Shanin Ziemer
Bev Berryman
Kim Anderson
Gisela Meier 
Thursday, December 15th, 2011 at 10:00 a.m.
Report by: Shanin Ziemer
We were greeted by District Representative Arthur Sandoval and led into our meeting with Senator Correa and District Director Tammy Tran.   After introductions (where the Senator discussed his background as a localAnaheimHigh Schoolgraduate) Kim discussed our talking points:
4th District PTA structure
Membership numbers
Our Advocacy efforts including Roundtables and Sacramento Safari, as well as local legislator visits.
Please feel free to contact us to share information or to ask questions.
A big part of the ensuing discussion was about our support of the CAPTA Ballot initiative with a progressive income tax increase to support education funding.  The senator discussed his concerns with progressive taxes:
The rich will start fleeing our state thus depriving us of the income we are currently getting so that after a few years we will again need additional funding.
Businesses are no longer incorporating, but forming limited liability corporations as subchapter S (C used to be common) to pay less taxes.
The rich can control how much they make and what year they make it in, so our revenue stream is unstable. We need to stabilize our revenue stream and progressive taxes don't help with that.
The poor are affected whether a tax is progressive or regressive, either in lost income from increased taxes or lost services.
"We need to redo the way we finance government…. Californians will pay more (taxes) if it's not wasted"
The senator discussed his concern that California might be moving towards a part time legislature, which would lead to all our legislators being either retired or independently wealthy because it would only pay $1800 per month and be a few months a year. This would lead to even further empowerment of staff (an unintended consequence of term limits was it gave staff more power) and a more inexperienced legislature.
Gov. Brown didn't help us with getting a tax increase to keep us out of our current debt situation.  The republicans wanted deregulation, and Brown wouldn't go far enough.  Environmental regulations take too long to fulfill.  We need regulations that can be met in 2 years, not 5-10.  But the state was able to wave all the laws to get a stadium put in when it wanted to.  But not for many other businesses that would bring our state jobs.  He used the example of Boeing wanting to expand a plant but ending up going toSeattledue to lack of support in CA.
Also, the governor went back on a pledge to Correa to give OC more money and when that deal fell through, the Republicans felt that Gov. Brown was too untrustworthy to deal with.  He pointed out that school employees are being "thrown under the bus" because the triggers are timed to kick in right before the election.   He expressed frustration that the Governor is difficult to access.
The senator is currently working on a bill that would streamline the process to allow big box stores and plants to put solar panels on without as much time needed for environmental study.  He also discussed wanting to modify the Single Sales Factor taxing structure to allow readjustment ever 5 or 10 years instead of annually.  He discussed that other states are more business friendly and wooing away CA businesses.  Our shrinking economy will continue to be a problem and confidence in our state is falling.  We have the second highest unemployment in the country.  He repeated several times that job creation is what we need for our state.