One Day Sacramento Trip Report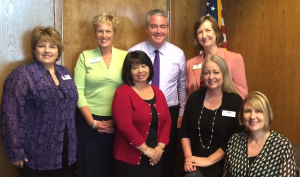 Fourth District PTA Advocacy Team
Sacramento Advocacy Trip
May 27, 2015
PTA Representatives:
Kim Anderson, Gisela Meier, Chrystie Adams, Kathleen Fay
To read the full report, click here.
---
Wednesday, May 29, 2013
 Fourth District PTA Attendees: Kim Anderson and Fran Sdao
Adonai Mack
Legislative Advocate
Association of California School Administrators (ACSA)
Report by Fran Sdao
ACSA supports the general concept of the Governor's proposed LCFF but seeks some changes.  Adonai and staff will be meeting with legislators over the next few days to discuss their concerns.  A lobbying day is planned for next week at which time administrators from throughout California will meet with legislators.  FVSD Superintendent Marc Ecker, President of ACSA, will be there.
Funding Levels
Prefers raising the base grant to an amount closer to the national average instead of basing it on 2007-2008 amounts.  This will benefit all students. Suggests reducing the supplemental and concentration amounts to fund a higher base grant which would allow districts to restore programs that have been reduced over the past five years.
Exclude Career-Technical Ed, Adult Ed and Home-to-School Transportation
Believes these programs are not core programs/services provided by districts and should not be part of the budget reform. Supports the Assembly plan, AB 88, which maintains Adult Ed in K-12, rather than moving it to the Community Colleges.
Common Core
Supports the Governor's recent revision to allocate $1 billion for implementation.  ACSA is hopeful that those funds will help districts with the necessary technology needs.
Accountability
Supports a multiple assessment approach to measuring accountability and student achievement.  The responsibility for accountability should be with the local school districts with limited intervention by the county or state.  Supports assistance from county and state, but not "punitive sanctions".
To read the ACSA position statement go to: http://www.acsa.org/MainMenuCategories/Advocacy/StateBudgetUpdates/LCFF-2013-14.aspx
________________________________________________________________
Edgar Cabral
Senior Policy and Fiscal Analyst, Legislative Analyst's Office (LAO)
Report by Kim Anderson
LAO projects $3.2 billion more in revenue than the Governor does in his May Revise, based primarily due on the sharp increase in stock prices.
LCFF:

The three versions (Gov, Senate & Assembly) are not really that far apart.
It's been difficult to analyze the Assembly's proposal, since they have only released a "package of principles" with no dollar amounts or grant percentages included.
Expect the two houses will come to agreement on one version to go to Governor.
Accountability has two components: 1. Fiscal (manageable) and 2. Academic (more challenging and should be more integrated with federal AYP). Currently have FCMAT (Fiscal Crisis and Management Assistance Team), so one option is to consider an academic equivalent.
Under federal AYP, by 2014 most all schools in California will be considered as "failing" and will be in Program Improvement. Unclear what the federal government is doing since ESEA reauthorization is long overdue. More than half the states have been granted waivers but California does not plan to apply for one as a state. However, eight districts in the California Office to Reform Education, or CORE, have signaled their intent to HYPERLINK "http://www.edsource.org/today/2013/districts-preparing-their-own-request-for-nclb-waiver/25452″reHYPERLINK "http://www.edsource.org/today/2013/districts-preparing-their-own-request-for-nclb-waiver/25452″apply for a waiver.
Complicating factor in academic accountability is new Common Core assessments that are being introduced in 2014-15.
Overall LAO recommendation is to adopt basic structure for 2013-14 and refine moving forward.
__________________________________________________________________________
 Alison Merrilees
Chief Deputy, Assembly Member Nancy Skinner
Report by Fran Sdao
A/M Skinner authored two bills that addressed public safety: AB 48, Bulletproofing Communities and AB 1296, Firearm Mental Health. Both bills passed out of the Assembly and were referred to the Senate.  There are also several bills in the Senate that address guns, assault weapons and ammunition.  It is likely that some of these bills will be merged.
AB 48 Bullet Proofing Communities
Requires anyone selling or transferring ammunition to an individual in California to require the buyer's identification, to be an authorized firearms dealer, and to report the sales to the Department of Justice. Makes it illegal for gun owners to purchase parts that allow them to convert their guns into assault-style weapons that can fire more than 10 rounds of bullets without reloading.
AB 1296 Firearm Mental Health
Extends from five to ten years the prohibition for anyone who is taken into custody as a danger to themselves or others is prohibited from purchasing or owning a firearm for five years after their release, unless a court determines that lifting the prohibition would not present a danger.
A/M Skinner also authored AB 39, Saving Energy, Saving Schools which establishes guidelines for projects and expenditures of revenue from Proposition 39, which provides up to $550 million per year for clean energy programs at schools and other public buildings.
A/M Skinner represents the 15th Assembly District, which includes Berkeley and the East Bay Area.
 _______________________________________________________________
Paul Richman
Executive Director, California State PTA
Report by Kim Anderson
LCFF:

Conceptually, CAPTA supports LCFF. However, it still does not address the issue of adequate school funding, which is a top priority for our members and we will continue to fight for that.
Pleased that both the Senate and the Assembly version raise the base grant, which PTA considers too low in the Governor's version.
Biggest push from State PTA now is

accountability and transparency.

Believe the Governor's accountability provisions in May Revise are too punitive – want to see more collaborative approach.
Too much going on with Common Core and new assessments to be able to accurately measure academic progress right away. Needs to be work in progress.
CAPTA wants school districts to have a plan of how spending $$, then to report back re how those $$ were spent and the outcomes.

Early Childhood Education is a huge priority for PTA.  An alert was sent out earlier this month asking members to contact their state legislators that said (excerpted): By providing every child with the opportunity to attend high quality preschool, we effectively level the playing field and ensure that all children enter Kindergarten ready to learn alongside their peers and move toward closing the achievement gap.
______________________________________________________________
Rick Simpson – Deputy Chief of Staff to Speaker, John Perez
Assembly Member Joan Buchanan – Chair, Assembly Education Committee
Debbie Look – Legislative Aide to A/M Joan Buchanan
Report by: Kim Anderson
 LCFF – Assembly Package Principles
Additional Investment in Low-income Children.  Improvements in other areas of the Budget – including funding for child care and child poverty adjustments in CalWORKs – must be made in order in order for targeted education funds to have their intended benefit for low income and English Learner students.
Base Grant.  Provide a base grant target that achieves the goal of providing per pupil spending based on the national average.  Adjusts funding using the Governor's grade span differentials.

K-3 Supplement:

  Moves towards a K-3 class sizes target of 20:1 ratio, commensurate with current law funding.

CTE Supplement:

  Funding same as the Governor's Proposal.  Require districts participating in an ROC/P operated by a JPA to use this funding adjustment for the purpose of funding the ROC/P.
Establish Economic Recovery Target.  All schools get paid back deficit factor (including foregone cost of living adjustment) and 19.8% categorical program reduction. 
Base Categorical "add-on".  Provide an Add-on for "base categorical" programs – Instructional materials, professional development, deferred maintenance, etc.
Supplemental Grant.  Provide a supplemental grant for English learner (EL) and low income pupils (LI) and foster children. A weight will be used that reflects the best available research on additional costs of meeting the unique costs associated with helping these students become academically successful.
Concentration Grant.  Provide a concentration grant of 75%.  Provide 1.5 weight for every pupil after the 75% threshold. Require funds to be spent on services for LI, EL and foster children.
Uses duplicated counts.  Uses duplicated rather than unduplicated counts of EL, LI and foster youth.
Expenditure Accountability.  Require funds to be spent on services for LI, EL and foster children.
Home To School Transportation and Targeted Instructional Improvement Grant (TIIG). Maintain TIIG as a separate add-on program per the Governor's proposal.  Maintain the Home-to-School Transportation program as a separate program with the goal of equalizing funding formulas.
Accountability. 

Require school districts to adopt a plan consistent with the Single Plan for Student Achievement and other federal planning requirements.
Require EL and LI Master Plan within overall accountability plan regarding use of Supplemental Grant Funds.
Provide funds to develop a statewide accountability infrastructure that supports school districts and their ability to build local capacity to improve academic achievement for all pupils, including but not limited to providing technical assistance.
A/M Buchanan's bills
AB 41: School facilities bond for November 2014 ballot. Is now a two year bill and CAPTA has not taken a position yet.
AB 135: Teacher evaluations. Is now a two year bill and CAPTA has not taken a position yet.
AB 375: School employee dismissal. Passed the Assembly and is now in the Senate – CAPTA has a support position.
AB 1338: School employees – reporting of child abuse. Is now a two year bill and CAPTA has a support position.
____________________________________________________________________________________
FOURTH DISTRICT PTA ADVOCACY TEAM – 1-DAY SACRAMENTO TRIP
JANUARY 22, 2013
Fourth District PTA Attendees: Kim Anderson, Fran Sdao, Nicola Weiss and Chrystie Adams
MEETING NOTES
 Robert Miyashiro, Vice President School Services of California, Inc.
Report by Fran Sdao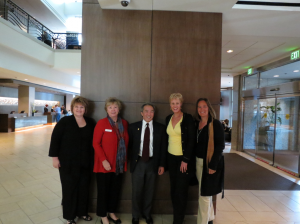 Robert opened our meeting with the statement that things are definitely better in California!  He cited both the indications that the overall economy is improving and the expected revenues from Proposition 30 that was passed by voters last November.
The Governor's budget proposal includes an updated funding formula that is a version of what was formerly known as the weighted student formula.  A big part of the plan is to eliminate the "wall of debt" that has been built over the past several budget cycles.  Deferral pay downs diminish the need for school districts to borrow to support operations while awaiting the state's late payments.
Local Control Funding Formula: The good news is that no school district should get less than they received this year. A combination of growth in Proposition 98 funding and deferral buy-backs will bring almost $5 billion in "new" money for 2013-2014.  Additionally the proposal includes a plan to streamline categoricals into a base-funding grant.  The proposal provides for an additional 35% above the base amount for English Language Learners, Low Income students and students in Foster Care (unduplicated count).  An additional 35% would be added per student in districts whose population of these students exceeds 50% of their population.  The plan is to allocate $1.6 Billion to fund the incremental growth formula, which should be fully implemented over seven years.
Concerns with the budget proposal: There are no requirements for official accountability by districts for how the funds are spent. The 35% additional amount is not evidenced based and will be debated. While no district should lose funds, some will grow more quickly than others so there may be some perceived inequity. Education leaders believe these reforms should be part of a policy committee review and recommendation and NOT part of a budget trailer bill.
Robert likes the plan and the School Services has recommended the inclusion of a COLA provision in the beginning so that all districts gain something.
Local Revenue Raising Ability: Senator Mark Leno has a bill (SCA 3) that would allow local districts to pass a parcel tax with 55% vote, instead of the current 2/3.  Robert believes something like that might make it out of the legislature but it would still have to go on the ballot for voters to decide.
He has concerns that making it easier to pass a parcel tax might result in the legislature and a governor passing revenue issues down to the locals and potential equity issues (Serrano) if wealthier districts pass taxes and poorer ones can't.
Class sizes: The Governor expects class sizes to reach 24 to 1 in grades K-3 in seven years.  However, it is not clear if there will be interim targets or penalties for districts that don't reach that.
Adult Education: The proposal shifts Adult Education from K-12 school districts to the Community Colleges by eliminating adult education categorical program.  School districts will get those categorical funds and Community Colleges will get $300 million to create new adult education programs
Online Education: It's coming.  The real time or synchronistic online model is the preferred method.  (Note: Robert teaches an online class at USC.)
Teacher Evaluations: He feels it will not be a big issue this year.
Edgar Cabral – Senior Analyst, Legislative Analyst Office (LAO)
Report by Nicola Weiss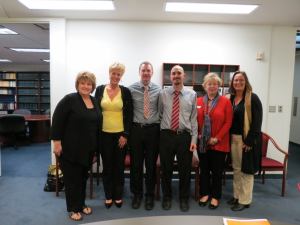 Edgar talked to us about the Education budget proposal and the impacts on Prop 98.  Thanks to the passage of Prop 30 last November, Prop 98 is increasing by almost $2.7 billion. The two biggest elements of the Governor's budget proposal are the Local Control Funding Formula ($1.6 billion) and deferral payments ($1.9 billion).
Prop 39 also passed last November and that brings in an additional $1 billion per year by closing corporate tax loopholes.  For the first five years, it requires that half the money be allocated to energy efficiency projects and the Governor is proposing that this all be spent in schools and community colleges on a per student basis.
The Governor is also proposing to fund all adult education through the community college system and provides $300 million for the CCC's to do this. Community Colleges may still choose to contract with school districts (through their adult schools) to provide instruction to students.
With regard to the Local Control Funding Formula (LCFF), there would be a base grant for each student plus a supplemental grant for ELL, low-income and foster kids. The Governor's proposes a 35% supplement plus an additional concentration factor of another 35%.
The LAO is concerned that a lot of things were crammed into the budget and that may cause issues down the road.  They do however like that debt is being paid down and that is looks like even when Prop 30 goes away the state will be on sound footing. The Legislative branch will have to approve of the concept and there will be much discussion. Most school districts will likely wait until the May Revise to create their budgets.
For the full LAO Overview of the Governor's proposed budget, please go to: www.lao.ca.gov
California Department of Education
Deborah Sigman, Deputy Superintendent of Public Education, Barbara Murchison, Education Programs Consultant and Nancy Brownell, Senior Fellow
Report by  Chrystie Adams
Kim shared that we'd like to discuss Common Core and would like to get an update on implementation, assessments, and funds to finance training.
Deb explained that even though the California Department of Education is working on implementation and assessments for Common Core, the department couldn't dictate to school districts and individual schools that they adopt Common Core and start using it. The CDE considers their role as an agency that provides resources so schools can make choices, but these are standards and not mandates.
Deb also explained that the largest part of implementing Common Core is the assessment program. She indicated that recently when the Governor presented his budget, the "lights went on" with various groups and they realized that Common Core is around the corner and they need to pay attention.
Deb suggested that we reference the Brownley Bill which provides a full set of 8 recommendations.
STAR ends July 2014 and after that there will be nothing in place for assessments as of right now.
Common Core was adopted in California in August 2010 and it will be almost 5 years before it is fully implemented. If Districts adopt Common Core they can modify the instruction, but assessments need to be aligned with CC.
Kim asked Deb about reaction to the Governor's budget and she said in general it has been good but tentative.
In discussing who will be most impacted by the switch to Common Core initially, Deb said the suspension of the current assessments will affect the high schools most, so they need to pay attention to curriculum. Assessments are due in 2014/15-hopefully districts are teaching to Common Core now, but the current assessments are for a different curriculum.
When asked about 2013 test results, Deborah said they continue to see gains even through tests that are not new. California education standards are rigorous already. In 2014/15 the CDE does expect a decline in proficiency until the new standards are fully integrated. Kim asked Deb if the CDE is on track. Deborah said to have an operational test-yes; will every student be delivered a curriculum of Common Core-can't answer.
Deb-districts choose whether they want to buy curriculum materials and choose to spend money on professional development.
Barbara-2014/15 not end of implementation marker, it will be an ongoing effort.
Nancy-next move knowledge/skills, application, career and college ready.
Deb-assessments for 2014/15 results are not pegged to have a lot of weight on results. She said she has spent the last year and a half working with higher education as well as Smarter Balance has been working with them. Higher education has been leading the effort, but k-12 thinks they are doing more.
The college readiness exam-11th grade no longer voluntary assessment for college. The exam will include: expository reading, writing and 12th grade math. If students do not pass then the thought would be that going into the 12th grade year the District would decide to give student additional help based on test results.
Deb-computer adaptive assessment-increases accessibility for students? Flexible funding situation right now could equal resources for technology. Most schools have legacy systems so the online assessment will be at a very low software level so it should work with all existing technology.
Students will have a 12-week window to take the tests.
Technology readiness tool-90% of responses say the schools are in good shape. If that data is reflective of the state as a whole, then the ratio should be 1:3 (1 computer for every 3 students).
Superintendent Torlakson put together a technology task force. Feds request to loosen up on restrictions for funding of software and hardware.
Barbara-We need to re-think what we mean by "depth and complexity" of knowledge. We need to have more conversations with administrators. There should be a depth of understanding of fewer things taught with the new curriculum; that is what they are considering.
Deb-So far they have released 4 professional development modules, tech, deeper learning, and class sizes.
Barbara-articulation across grades/subjects in teaching.
Kim asked if the 12 recommendations contained in the CDE report called, "Recommendations for Transitioning California to a Future Assessment System," had been put into a legislation package and the answer was, " Not yet."
Final question about what's next…
Suspension of current assessments most urgent
Matriculation over the longer term
Alternative to CAHSEE earliest 2015-16
72nd District Assembly Member Travis Allen & Matthew Dobler, Staff
Report by Fran Sdao
 ASM Allen was elected last November to represent AD 72. He met with us briefly inside the Governor's office when he stepped out of a meeting with a delegation of Chinese business people.
He said that his mother was a PTA president and was very involved when he was in school.
Kim shared some Fourth District PTA background and he seemed very impressed that we are the largest PTA District in the state and the nation!!  We discussed future meetings with the ASM in Sacramento in February and March and he said he'd be very willing.
California State PTA: Patty Scripter, Director of Legislation and Paul Richman, Executive Director
Report by Kim Anderson
This was only a very brief meeting but we shared details of our meetings from today.
We then discussed the optional bonus session that we are planning for our early arrivers at Sacramento Safari on March 18 – both Patty & Paul kindly agreed to run that portion. They plan to conduct a focus group with our members about important issues to PTA and to invite attendees to share any ideas, thoughts, concerns that they may have. It will be called, "Let's Talk About It" and is a wonderful opportunity for Fourth District PTA members to enjoy informal face time with State PTA leadership! 
Rick Simpson, Deputy Chief of Staff to Speaker John Perez, and Paul Navarro, Education Consultant
Report by Chrystie Adams
 We discussed the shift of Adult Ed to Community Colleges and Rick was concerned this could cause an accessibility issue since there are way less CC's than there are high schools.
Kim asked Rick about whether he felt LCFF would go through as a trailer bill to the Governor's budget or if it would go through the bill/committee process. Rick felt it would go through the process.
Paul is currently working in online education and is a corporate business consultant for Qualcomm. He is currently trying to get a bill passed for Riverside to be able to have an online high school.
When Paul was asked what he thinks the reservations are about online education (i.e. teacher's jobs threatened?). He said he doesn't think so. He thinks the questions are centered on the quality of instruction and whether the outcomes are as good.
Class size limits-currently 32 in primary grades and 34 in intermediate. The Governor's proposed budget would ratchet those numbers down to 24 over 7 years and would trigger a penalty/discount in funding if they exceed 20:1 that could equal 2x the ADA.
School District Local Revenue Raising is a big deal – Governor has not talked about allowing school districts to raise their own money locally yet state government does not have the political will or the resources to adequately fund education. Rick believes it's time that those options were explored.
Rick thinks a parcel tax is a bad idea because the number of parcels does not grow. He is open to other ideas like $.25 sales tax to support education or there could be a menu of taxes (i.e. sales, income, parcel, etc.). Cities and counties should have a say too what type of tax would work best for them. Tax options-2/3 vote not realistic. If we are going to get serious about adequate funding we have to give the local level more serious consideration than we have in the last few years.
Equity bill was signed into law in 1977, was fully Serrano compliant, local property tax financed and in 6/78 Prop 13 came along and killed it. The way to make it more equitable would be to tax by County, that way there would be 58 more limited data points.
Teacher evaluations-don't know if that will come back. Rick said that he's been wondering, "Is there an imperative to change the law?" There is nothing external that is forcing us to act. It is more likely than not that there will be a bill similar to AB5, but there may not be a will to pass it. Was there more political will last year? Hard to say.
Gun control-some members want to do something, but California has the toughest gun control laws in the country. Possibly a California assault weapon ban for specific models, limit the size of magazines.