Cultural Arts
Fourth District PTA Cultural Arts Chairman.  Send email
Upcoming Arts Events…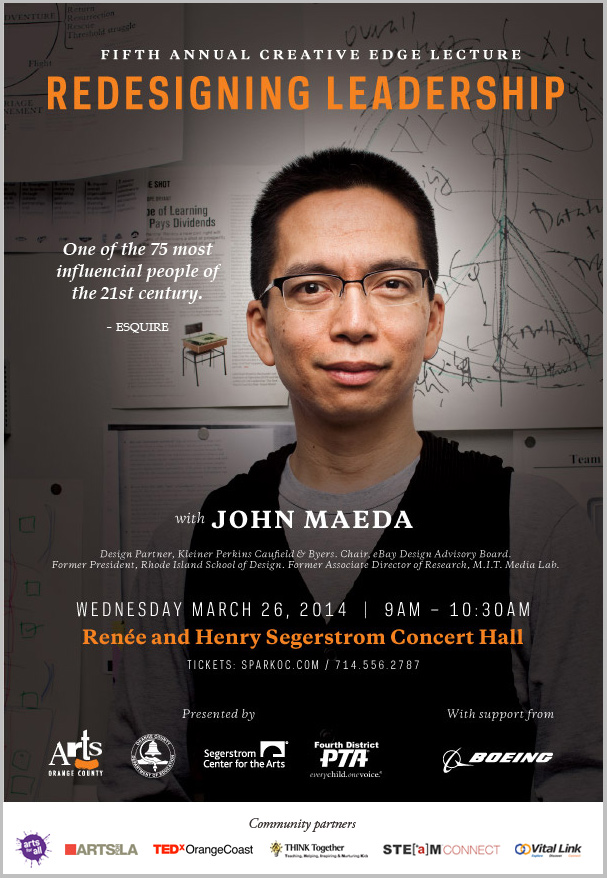 Save the date for this worthwhile event. Come and bring along a guest! This is a great opportunity to invite your school board members, administrators, or principal to attend with you and it opens an avenue to discuss the importance of arts in our classrooms. Our students need a complete curriculum including the arts to become the innovative and successful leaders of the future.  
John Maeda is an artist, visionary, and the foremost thought leader on STEAM (Science Technology Engineering Arts Math) education.                Tickets: http://goo.gl/aNE2He
  Arts Education
As a nation, we are close to reaching a collective understanding that all students benefit from the opportunity to learn about and experience the arts. Study of the arts in its many forms—whether as a stand-alone subject or integrated into the school curriculum— is increasingly accepted as an essential part of achieving success in school, work and life.
---
Grants are available annually from the California State PTA for use by PTA districts, councils, or units to develop and implement student-centered cultural arts programs and projects focused on arts education.
Application:  An application form for the grant is located in the Forms Section. Deadline for the return of applications to the state office is November 15. (Forms 375)
Eligibility:  Applicant must be a unit, council or district of the California State PTA in good standing.
Selection:  Recipients are selected by the California State PTA scholarship and grant committee. A check for the grant is sent to the recipient following the January California State PTA Board of Managers meeting.
Download the grant application from the California PTA website which is included in the Toolkit (Adobe PDF).
Sign up to receive Arts emails now! 
Go to our home page, right column, bottom of the page.  Find "Publications Signup".  Click the Cultural Arts box.  You will be added to our arts distribution list.

Links of interest: